The lateral malleolus is located at the end of the fibula. It's one of two bones of the lower leg, which
carries about 10% of your weight. A fractured lateral malleolus is the most common type of ankle fracture
of the fibula, and is usually not too serious. To learn more about lateral malleolus fractures, read the
information below.
Causes
● An awkward or uneven step that causes you to twist or roll your ankle.
Signs and symptoms
● Pain
● Swelling
● Bruising around the ankle
Diagnosis
● Your healthcare provider will assess your symptoms and test you for signs of a more serious
unstable ankle fracture.
Treatments
1) Non-surgical treatment:
● Stress X-rays are done if stable.
● No surgeries are required if your ankle is stable, no broken bones are out of place, or are barely out of place.
● Several methods to protect the fracture while it heals.
○ Wearing hip top tennis shoes
○ Wearing short leg cast
○ Some physicians allow weight being
○ Other physicians require non weight bearing for 6 weeks.
2) Surgical treatment
● Required if the ankle is out of place and unstable.
● Bone fragments are 1st repositioned into their normal alignment and are held together with screws and metal plates attached to the outer surface of the bone.
Prognosis
● Good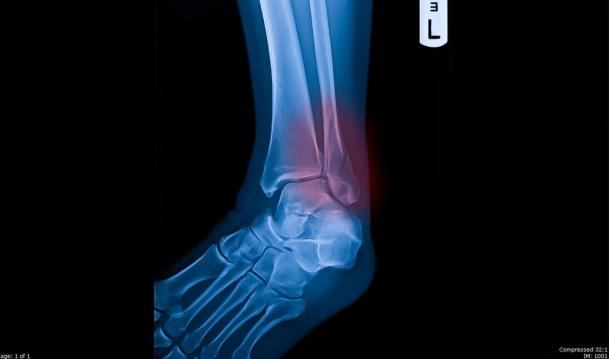 References
American Academy of Orthopaedic Surgeons. (2022). Ankle Fractures (Broken Ankle). https://orthoinfo.aaos.org/en/diseases–conditions/ankle-fractures-broken-ankle/
Aiyer, A. A., Zachwieja, E. C., Lawrie, C. M., & Kaplan, J. (2019). Management of Isolated Lateral
Malleolus Fractures. The Journal of the American Academy of Orthopaedic Surgeons, 27(2), 50–59.
https://doi.org/10.5435/JAAOS-D-17-00417
Nitchapa-am stock. (2022). [Image]. Closed fracture left lateral malleolus red highlights is the area where
the bone is broken, black background. https://www.shutterstock.com/image-illustration/closed-fracture-left-lateral-malleolus-red-2049568550